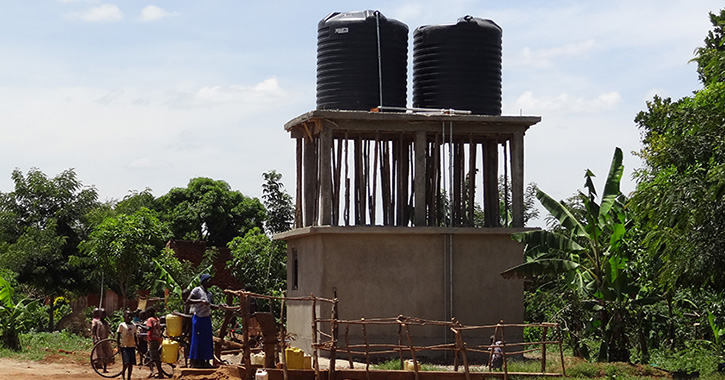 The Randal Charitable Foundation Naitandu Solar Powered Water Distribution Project
---
The Story
When Water for Kids installed a borehole in rural Naitandu, Uganda in 2007 it doubled in size from a village of 1500 to a community of 3000 and became a local trading centre. This put enormous pressure on the single borehole which meant that villagers, mostly women and girls, were queueing for hours to fetch water. Due to the increased demand on the one borehole WFK installed a second borehole in February 2016 and then renovated a third in June 2016. With the support of the Randal Charitable Foundation Water for Kids installed a solar powered water distribution system which means that several people can fetch water at the same time and there will be fewer breakdowns. Feedback from the team on the ground tell us that the project has already had a major positive impact on the village, school and local trading centre.
Naitandu Community, Iganga
In 2007 Water for Kids drilled their first borehole in Uganda for the rural community of Naitandu. At that time the community had a population of 1535 people and included a school of 700 pupils.
The Need
As a result of WfK's work in Naitandu the population has now nearly doubled to nearly 3000 people, including 2 families with disabled members, and Naitandu has become a small trading centre covering approx 2.5 sq kms with people living on small plots.  New businesses have sprung up, making sanplats (hygienic latrine slabs) for example.
This has put a huge strain on the boreholes causing breakdowns and expensive repairs.  At peak times villagers, mostly women and children, can walk up to 2 kms and wait up to three hours to get water. This causes tensions in the village and means that children are missing school and women aren't able to work or take advantage of new business opportunities.
The Process
Funding from the Randal Charitable Foundation meant that Water for Kids could deliver a significant project to install a submersible solar pump to improve efficiency of the water supply. A Tower was constructed to carry two 10,000 litre water tanks (equal to 20 tons) with the solar pump raising the water. Pipe work was laid to five water points around the community, each with two taps allowing quicker collection of water and and reducing wear and tear.
This was managed by the experienced Water for Kids team in Uganda with enthusiastic support from the headman, Hajji Bindondole, and the villagers of Naitandu who contributed by digging all of the trenches for the pipes.
The Impact
Approximately 10,000 litres of water are used each day and are available without queueing.
The delivery of this project coincided with the onset of Covid 19.  The trading centre, school and village now have access to water making hand washing easier and helping save lives.
Waterborne diseases are still the largest cause of infant death in Uganda - the new system means that safe water will be readily available without risk of breakdown and lives will be saved.
Other benefits include:
Greater attendance of pupils at school due to not having to spend hours queueing to fetch water.
Less time spent queueing for water increases the work capacity of the villagers, particularly women, and allows them to participate in business opportunities.
Increase in business opportunities for the community.
The rejuvenation of rural areas which in turn, slows down urbanisation.
A decline in domestic abuse, due to mothers spending less time away collecting water.
Families with disabled members finding life easier and more able to participate in village life
Many thanks to the Randal Charitable Foundation for making all of this possible.